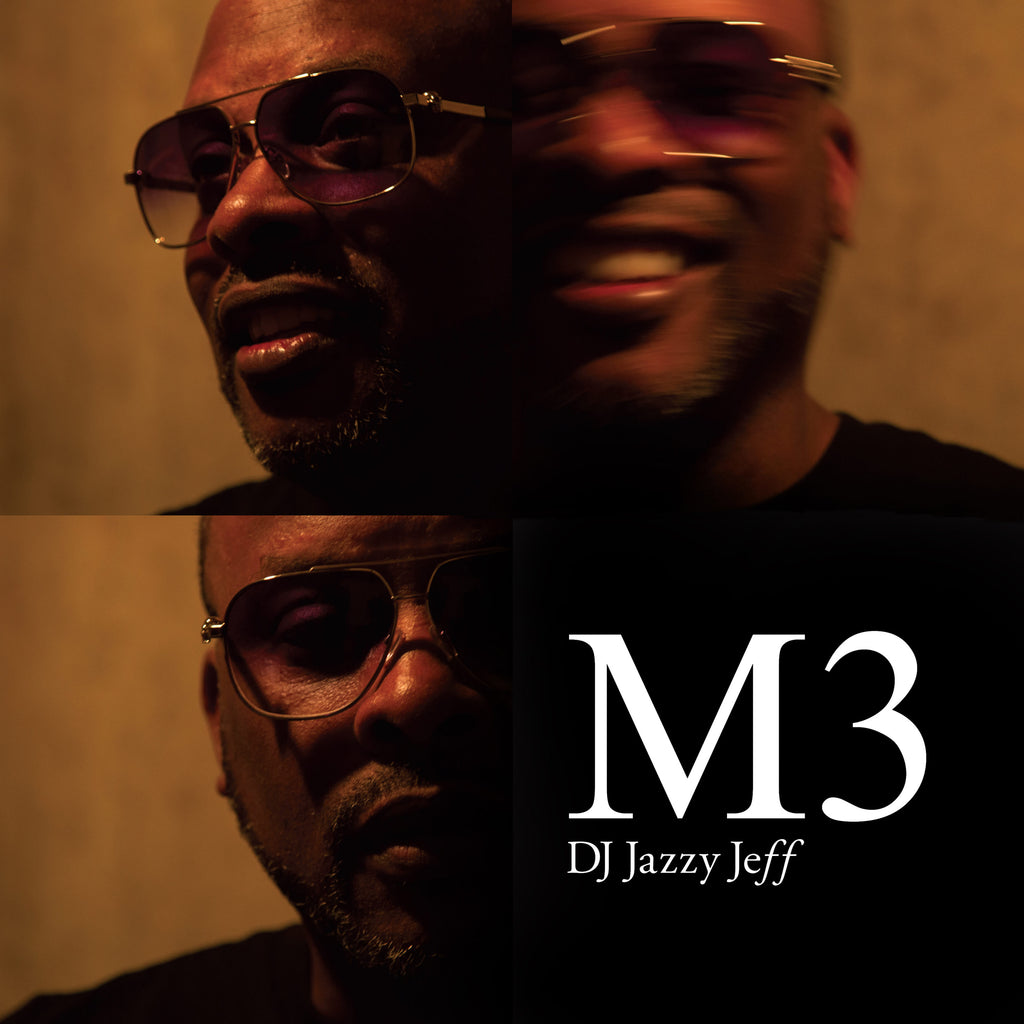 DJ JAZZY JEFF - M3 DOUBLE LP
DJ JAZZY JEFF - M3 DOUBLE LP
DJ Jazzy Jeff "M3" Deluxe 12″ 2 LP Gatefold Vinyl Edition.

DJ Jazzy Jeff releases M3, the finale of his Magnificent series. More than a decade after the earlier installments (The Magnificent, 2002 and The Return of the Magnificent, 2007), M3 is Jeff's first studio album to be released as an independent artist. With M3, DJ Jazzy Jeff celebrates unhindered creativity. He enlists world-class musicians from his PLAYLIST artist network, Daniel Crawford, Kaidi Tatham, and Philadelphia collective Killiam Shakespeare, to set the tone from this highly anticipated project. Other notable M3 contributors include James Poyser (Late Night with Jimmy Fallon, Mariah Carey), Andre Harris (Jill Scott, Usher, Justin Beiber), Stro Elliot (The Roots, The Procussions) and Jeff Bradshaw (acclaimed Trombonist). While staying true to his b-boy roots with classic boom bap drums, Jeff infuses a myriad of sounds that have influenced his production over the years. The result is a cohesive mix of hip-hop, R&B, funk, jazz and house. DJ Jazzy Jeff brings extraordinary artists together to present a multigenerational perspective on life, love, the current state of society, and the music industry. The Trinity, comprised of Grammy and Oscar award-winning MC Rhymefest, Philadelphia MC Dayne Jordan and multitalented artist Uhmeer, serves as M3's primary storytellers. With three distinct styles, the trio is a recipe for an unprecedented flow and a magical delivery. The Trinity lays the foundation of real hip-hop with tracks including The Beginning, Scars, and Where You At. Things lighten up with feel good tune Skater's Paradise, and a tribute to the ladies, Stronger Than Me. And M3 wouldn't be complete without a few soulful voices. Singer/Songwriter Aaron Camper provides his sultry sound to Midnight Escapade and The Way We Cool. Maimouna Youssef lends her soulful harmony to Child of God, and Masego adds his signature trap-jazz flair to 2Step. M3 is a memoir, love story, how-to manual and manifesto all in one. As a renowned DJ and producer, DJ Jazzy Jeff's career spans decades, genres and generations. M3 is a reflection of that existence and his declaration of independence. "For me, M3 represents freedom as an artist and in business," said DJ Jazzy Jeff. "After all these years in the business, it's liberating to finally be totally independent. Hopefully, I inspire others to take charge of their own destiny." Tracklist:
Side A 1. Intro 2. Skater Paradise 3. Scars 4. Where You At
Side B. 1. Hi & Hungry 2. 2 Step 3. Wide Awake 4. It's June Already
Side C. 1. Stronger Than Me 2. Midnight Escapade 3. Child of God 4. Interludes4dayz
Side D. 1. The Way We Cool 2. Government's Dead 3. Outro
All songs written and produced by The Playlist except Skaters Paradise, produced by Killiam Shakespeare and The Playlist. "Midnight Escapade" & "The Way We Cool" written by Aaron Camper. All songs engineered by DJ Jazzy Jeff, Eric Lau and Kelo Saunders. All songs mixed by DJ Jazzy Jeff and Eric Lau at the Hamptons Studio, Bear, DE. Mastered by Larry Lachman. Executive produced by Jeff & Lynette Townes, Nicole Palumbo and The Playlist.
*UPDATED VINYL RETURN POLICY (04/2019): 
All vinyl sales are final: Returns will not be accepted. If you receive a record that appears to have been damaged in shipping, please contact us immediately. Many records come with a slight warps or pressing nuances due to imperfect presses and/or distributor storage and handling. Therefore, our policy is that warped records cannot be returned for any reason. We do, however, reserve the right to have discretion on whether or not we'll issue a replacement for minor issues such as cosmetic creases etc.
NOTE: AUTOGRAPHED AND/OR PERSONALIZED ITEMS ARE FINAL SALE